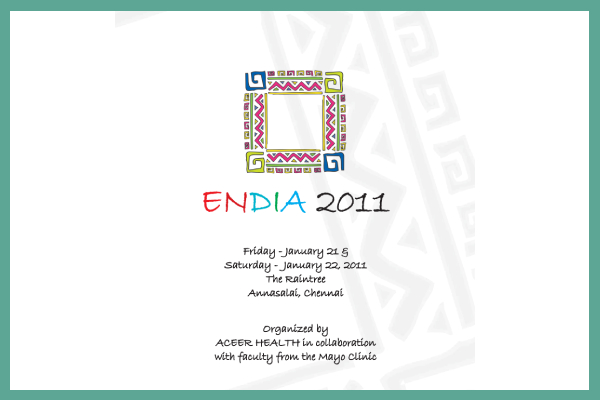 ENDIA 2011
It gives us great pleasure to inform you that the first Endocrinology update organized by us in collaboration with faculty from the Mayo Clinic.
Five outstanding members of the Mayo Department of Endocrinology, Metabolism and Diabetes will enlighten us on Thyroid, Adrenal, Bone Metabolism, Preventive Endocrinology, Obesity and Diabetes. Drs. Morris, Young, Nair, Clarke and Hensrud will be in Chennai from Friday, January 21, 2011 to Saturday, January 22, 2011. National faculty will participate in clinical discussions and offer their experience and perspective.
This program promises to bring the delegates [endocrinologists, diabetologists and internists] a great opportunity to listen, learn, interact and get enriched. Young endocrinologists and those in training will find the faculty particularly inspiring and the program highly informative. Case discussions have been included in all the sessions and each day will end with a panel discussion that will allow participants to have their clinical dilemmas and other questions answered.
We are grateful to SEACON (Southern Endocrine Associates)
and WISH (Women of India Support of Health) for their partnership in this program. This raises the level of excellence of the program enormously.