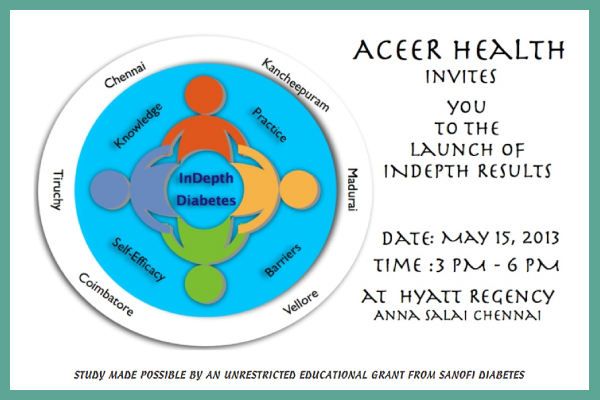 In Depth Diabetes (ACEER Health)
Press release
For immediate release
Contact person: Dr.Usha Sriram
ACEER Health, Ph: 044 24460762
Email address: drushasriram@gmail.com
Website address: www.aceerhealth.com
Understanding the Diabetic Patient's Perspective
Chennai, India. May 15 2013. With the prevalence of Diabetes on the rise, many studies have been conducted on other aspects of Diabetes Care and Management, ACEER Health's Dr. Usha Sriram and her team felt the need to understand the Patient's Perspective about Diabetes. With that in mind, this study was crafted to address this objective:
To assess the knowledge, attitudes and self management practices among patient with Diabetes in Tamilnadu
The study also will be segmenting the audience as latter part of the study to be able to tailor messages for the different segments based on their Media Habits and their needs.
This study was conducted among Public and Private Clinics / Hospitals in 6 districts of Tamilnadu, namely: Chennai, Kancheepuram, Tiruchy, Madurai, Coimbatore and Vellore. A total of 2567 people were interviewed in these districts and the results are being analyzed in-depth.
Preliminary results reveal that almost half the population surveyed are in the 46-60 age group, followed by the 61-75 year olds. There is a need to also highlight that almost 1 out of 5 surveyed are in the very productive age group of 31-45. Also, only 12% of the respondents proactively were diagnosed with Diabetes while majority of them were symptomatic before seeking help.
Analyses revealed poor knowledge among most of the surveyed about Diabetes Care and Management although their confidence in managing the disease was moderately high. Almost Three out of four surveyed believed their physician to be the best motivator for making lifestyle modifications.
Almost 70% of the surveyed reported watching Television everyday followed by reading the newspaper.
Based on the data available, ACEER Health intends to segment the audience and tailor messages based on effective messaging to this community so as to have an empowered patient proactively prevent and or managing their Diabetes.
This study highlights the need for concerted counseling of the patient both at the provider level and through mass media. An empowered patient is ideal for strict/aggressive management of this disease and to that goal, ACEER Health is committed through its Health Promotion initiatives to create an enabling environment for healthier communities in Tamilnadu.